On annual leave recently, I was skiing in Italy, a nice break after four busy days at Crufts. Having stood up on a concrete floor for 10 hours a day, talking non-stop about dog beds, some fresh mountain air was welcome. My three pointers, never left on their own, were securely looked after by Jodie and they love it. Jodie has four dogs and it must be quite a party with seven dogs and little house, but Jodie has a handle on it all and it went fine.
If you ski in Scotland, you are certainly told to leave your dogs at home on their dog beds and not bring them with you on the down-hill slopes. I did it once, years ago, and the snow patrols told me NOT to ski with the dog because I could have a bad accident and sheer off the paws. Well, with that thought in mind, I put her back in the car. What a hideous thing to happen. I am sure it has also to do with other skiers, who may be scared of dogs or just don't want to get scared when a black dog runs across the slope.
However, when I have been to Austria occasionally, there are super fit people, who ski/walk up the hill with skins on their skis so they can walk (cross-country type of style) up, where they take off their skins and ski down. Often these enthusiasts take their dogs with them and it's clear to everyone HOW much these dogs are enjoying running on the snow instead of being left at home on their dog beds. When these fit people have walked to the top, I am sure they get a cup of hot chocolate and then they ski down, sometimes with head lamps on. If skiing over your dog's paws was a common disaster, we would surely not see so many people bringing their dogs.
While in Italy we had stopped to eat at lunch time and I saw a lady with three extremely happy dogs. Two were still with her, the last one had to be called a lot to be found. It was a funny mix with sticky-up ears that wouldn't really behave. It was obviously running round the woods, having a great time. The skier eventually got them all round her and went off. They will be sleeping very well on their dog beds tonight.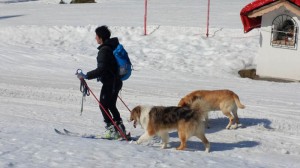 At the ski-lifts there is a note to say that dogs must pay for their tickets too and that they must wear a muzzle. It is a bit of a shame, but we never quite know our own dogs and it would be horrible if they suddenly decided to chase AND BITE another skier.
We also skied past a place where food was served and we noticed the dog on the top of the roof having chosen this as his cooling dog bed: in a snow pile. OK, the March sun can be strong and warm and this dog had a good, thick coat, but to actually seek out a lump of snow to lie on, must be because he is very hot.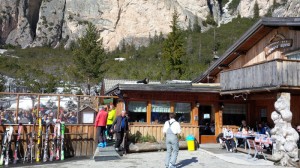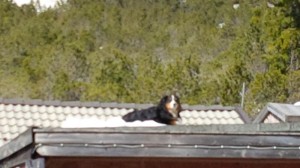 We excel in making warm dog beds and then we find a dog that wants the opposite. Haha.