During the long, cold winter we all know how our dogs love the feeling of sleeping on their dog beds in front of the fire. More and more people are using wood burners and open fires instead of oil heating, which is right up doggie street. It is a common request here at Tuffies that customers want a bespoke size dog beds to fit in front of the fire or a colour that will match the AGA as the dogs are always sleeping by the warmth. We have no shortage of testimonial pictures of dogs enjoying their luxury dog beds in front of the crackling fire in the winter.
Once spring and summer arrives, I also see my own dogs out there on their patio basking in the sun. In the very early spring the sun doesn't quite get to the patio in the morning and if it's a bright day, they will abandon their outdoor dog beds on the patio and find themselves a little natural nest in the grass, right there where the sun strikes. They curl up in the sun and sleep as in heaven.
 Gollum does look for a nice bed and if the old, battered lawn mower is sitting in the garden, I have seen him curled up, uncomfortably looking, sleeping on the seat. Dogs love being a bit higher up, they like to know what is going on on the road outside just in case there is a cyclist that needs to be barked at.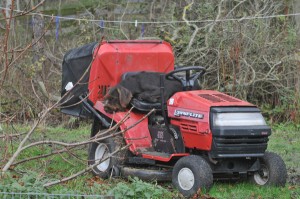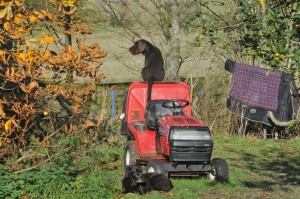 The lawn mower is also very good as an outdoor dog bed when you need to have a good look out.
I tried to make them all a variety of summer outdoor dog beds that can be left outside. There are various factors to take in to account: for example, if you want to leave it on the grass, you want something that doesn't yellow the grass underneath due to lack of sun light. I guess there are many raised dog beds for sale, but we do find that they all seem really cold and draughty. I guess the lawn mower remains the best option as it will be moved regularly and is high up.
Another requirement for outdoor dog beds would be drainage. You don't want to be forced to take it in every night or to put something over it in case it rains. So I made some very well draining patio dog beds, which consisted of chopped up cow matt inside a seriously permeable cover. So when it rains, the water runs straight through the cover and content without leaving the "bed" wet. As soon as it stops raining, these dog beds will be dry and ready to be slept on. Once I had made them, I realised that they were not very comfortable and I would certainly not like to lie on all these lumps myself, but it turns out that the dogs are actually using them. To them it seems more important to have a bit of insulation and warmth than anything super soft. These were prototypes that never came to anything other than an idea that might be revisited some time in the future.
We have, however, a new product in the pipeline, which will be a perfect outdoor dog bed. Watch this space. I can't reveal any more, but it will be awesome.