Handmade in scotland

for active dogs

Call our team

01888 563288

Free delivery on all orders

for mainland UK
The Wipe Clean Tuffie Nest Dog Bed reviews
The Wipe Clean Tuffie Nest Dog Bed
FULL DESCRIPTION & FAQS
Our Nest dog beds are sturdy, waterproof and warm and come with a Luxury Fleece covered futon mattress in the middle.
COVER FABRIC: Wipe Clean or Durasoft?
IS THE "WIPE CLEAN" FABRIC THE RIGHT CHOICE FOR ME? If you are looking for the type of dog beds where absolutely no dog hairs stick and if you want to be able to spot clean (slobber, grease etc) from your dog beds, the Wipe Clean type is ideal. This fabric feels like a waxed jacket, so it is smooth and subtle. It is a double coated acrylic polyester, 100% waterproof so you can hose down and spot clean these dog beds. If you are looking for dog beds that are made from a more upholstery-like material with extreme durability, have a look at our Durasoft Tuffie nests.
THE NEST: Dogs love the nest type dog beds because they can curl up inside, rest their head on the side and enjoy a totally draft free place from where they can watch the world. When your dog wants a bit more peace, he can cuddle up in his "den". This appeals to the wee wolf that lives inside every dog.
SURROUNDS: The Tuffie Nest dog beds have thick, strong walls for your dog to rest his head (and his front paws) on without the bed collapsing down or getting out of shape.
FUTON CUSHION: In the middle of the nest sits a Wipe Clean futon cushion. This is our standard futon mattress that doesn't go flat or lumpy, but stays fresh and thick and provides perfect insulation from the floor. All Tuffies dog beds have futons inside.
LUXURY FLEECE: The central cushion comes fitted with a thick luxury fleece, which is machine washable.
WASHING: To wash the nest, you can take the cushion out, take the fleece off and sponge with hot, soapy water and rinse. The surrounds can be turned inside out and washed the same way as long as you don't point the water-jet directly on the seams. The cushion fleece can be washed in the washing machine at 40 degrees Celsius. Click here to see washing instructions.
CHEWABLE? Nothing that you can cut with scissors is chew-proof!! Our dog beds are made from the most durable material available, but a determined chewer will always be able to cause damage. We find that sometimes our deighted customers will tell their friends that Tuffies dog beds are virtually indestructible, but unfortunately nothing is, not even a Tuffie. Tuffies are robust, stay thick and insulating and they last for years, but they are not chew-proof. HOWEVER, we have of course the Really Tough Tuffie, which is money-back guaranteed chew-proof.
SIZE GUIDE: Based on dogs lying comfortably curled up in a nest, we advise the following sizes according to the dog's weight. Up to 5Kgs:Small Nest. 5-15Kgs: Medium Nest. 15-30Kgs: Large Nest. 30-45Kgs: XL Nest. Over 45Kgs: XXL. Make sure you are aware of this size. The XXL is HUGE!
BED SIZE GUIDE
There is no description for this item yet.
DELIVERY & RETURNS INFO
Free delivery on all orders over £50 for mainland UK. Orders under £50 will be charged a flat rate of £10 per order for mainland UK. Overseas or offshore postcodes please contact us for a shipping quotation. If you live in an extremely remote area such as the Highlands & Islands or at an off-shore location please contact us regarding your order to confirm availability of the delivery service. International customers should also contact us prior to ordering.
Frequently bought together:

The Nest Dog Bed Cover
£43.00 €48.01 $54.68
Our Waterproof Fabrics

DURASOFT: Our Durasoft waterproof dog bed fabric is a 1000 Denier texturised Nylon, which is the STRONGEST fabric on the market (beware of cheap polyesters looking 'strong'). We have our fabrics coated to Tuffies' specifications with an extra heavy duty polyurithane waterproofing on the reverse side of the fabric as this provides a long lasting, flexible waterproofing. This fabric will stand up to a huge amount of digging a clawing. The advantage of Durasoft is that it feels like a lovely upholstery fabric, but it is super strong and waterproof. Perfect for the world's best dog beds. While NOTHING is chew-proof, the Durasoft is the toughest you will get and for digging dogs, this is great. For dogs that chew, please see our shop.
Easy Cleaning
Both fabrics, Durasoft and Wipe Clean can be scrubbed down with hot, soapy water and rinsed off. The water will make the Durasoft surface wet, while the water will form droplets on top of the Wipe Clean fabric.

After washing, the Durasoft needs to dry off the surface for about an hour on a sunny day while you can towel dry the Wipe Clean Tuffies dog bed.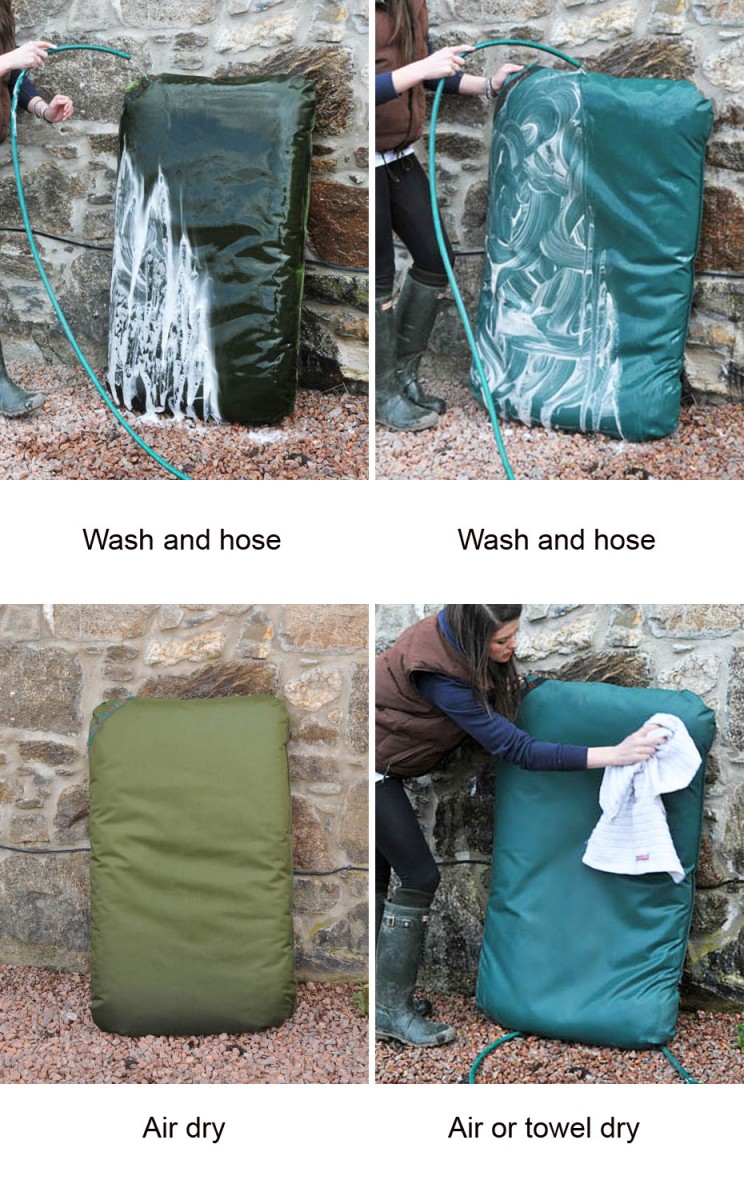 Our Futon Mattress
We take great care making a futon mattress for the inside of all our Tuffies dog beds. No crumbling foam, no fluffy beds that collapse. We make a comfortable, insulating and supportive futon mattress that keeps its thick shape.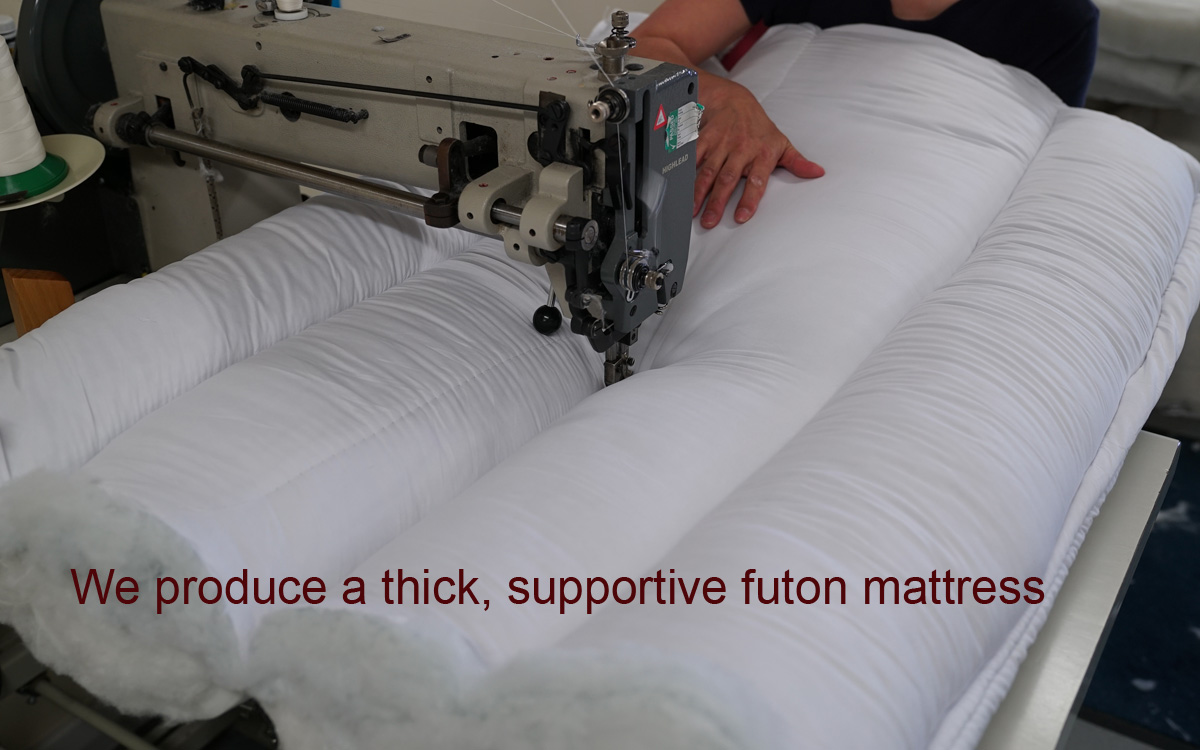 We took the liberty to compare our Tuffies dog bed futons with conventional dog beds from a pet shop. The first thing you notice is that the Tuffie bed weighs twice as much as the petshop bed. When you open up the two, the difference is huge. The Tuffies futon mattress is packed carefully in rows as the filling is secured and won't go flat or lumpy. The petshop bed simply has loose filling blown in. This will reduce in a short time as it collapses and migrates out in to the corner of the bed.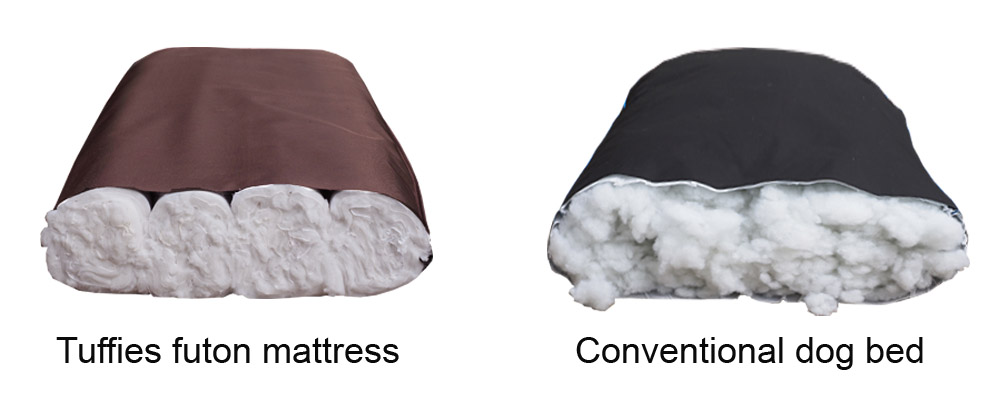 Our Soft, Optional Covers
Our waterproof dog beds can be used just as they are, but if it suits you and your dog, we also supply optional covers to fit over the waterproof beds. Our most popular type is our Luxury Fleece covers: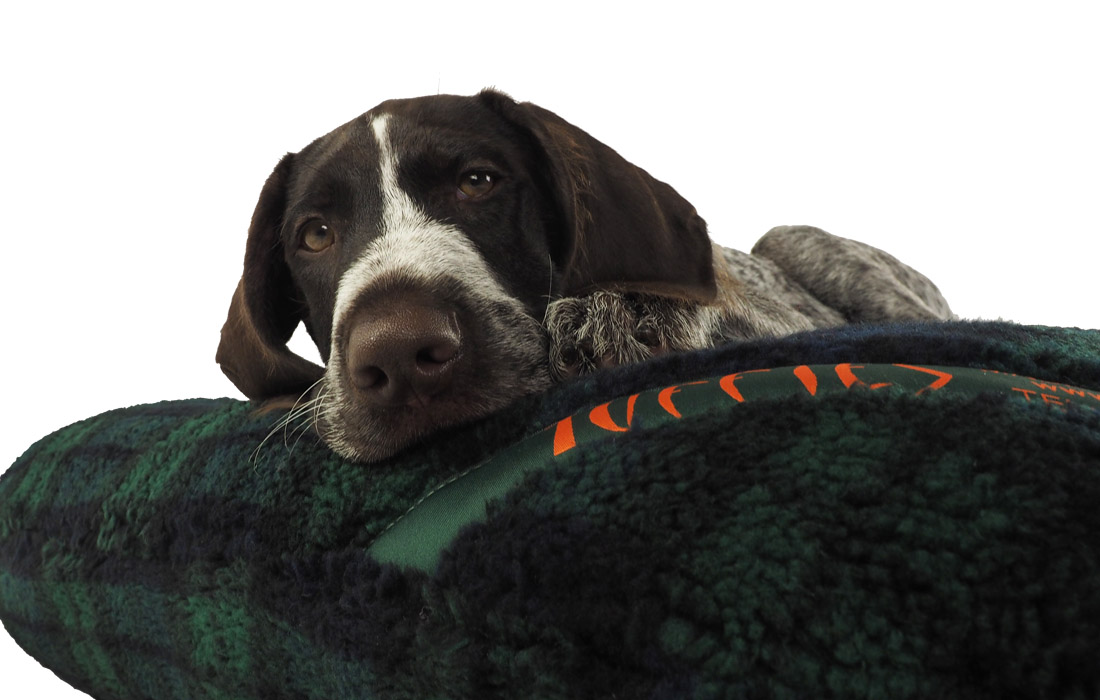 We also carry some lighter types that are less warm for hot summers, such as our Highland covers.