About Tuffies
DOG BEDS
FOR REAL DOGS
Working my dogs, thinking about dogs and loving dogs as pets, means that their welfare is very much on my mind. Most dogs, when they are not worked, walked or played with, are fairly idle. They spend a lot of time sleeping on their beds. So the dog bed is an important piece of dog equipment. To keep a happy, active and healthy dog for as long as possible, a good bed with excellent insulation from the cold floor, is vital.
Here at Tuffies we make only top notch products. All our base fabrics are top quality waterproof fabrics. Our 1000 denier texturised Nylon "Durasoft fabric" has an extra heavy polyurithane waterproof coating custom-made for Tuffies in order to give optimum performance for the dog bed application.
Several of our soft cover fabrics are also purpose-made for Tuffies' quality-demands.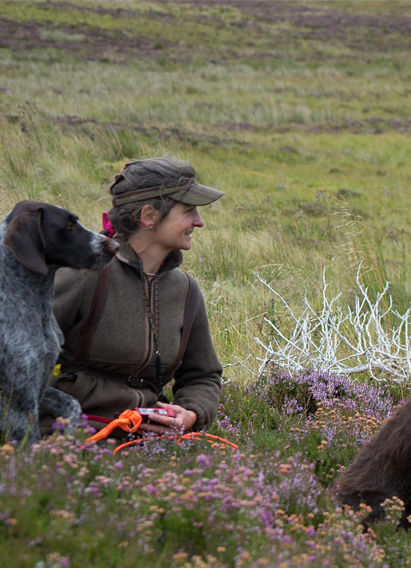 TUFFIES.......
EVERY DOG'S DREAM
Tuffies was started as a company in 2000. It quickly became clear that lots of dog owners have the same need for good dog beds and Tuffies now supply everone, who likes sturdy, nice, solid and proper dog beds all over the UK and beyond.
We have grown over the years and we now have our big, purpose built workshop and storage in rural Aberdeenshire. It is pink because when we built it, it was a very important principle that we would create something that looked really smart in our rural site. A lot of the old buildings in this area have sandstone corners and chimneys in this pink and we took great care to match that colour exactly. We think this is one of the cutest industrial buildings around.
We have a happy and ever-expanding team of dog bed makers here, who skilfully and carefully create all the Tuffies dog beds for the UK.
Acknowledgements: I would like to extend my thanks, not only to ALL staff here at Tuffies, who make this place a happy and caring place for making fabulous dog beds, but also the many people, who have helped with the new web site. We picked some beautiful local homes to exhibit our products so Lynsey and James deserve a huge thank you for letting us photograph their manse. We also owe Jim Cruickshank a thank you for lending us the Waterside fishing lodge. Both houses are very associated with dogs, both as pets and working dogs. Wendy and Anita joined us with their dogs, Stitch (Hungarian Vizsla) and Lucy (Dalmatian). My dear friend, Anne, came with her gorgeous Labrador, Izzie, and Anne also made the little "Free delivery"-vignette. Also, we were blown away by Laura Saxby's images of her beautiful and fun dogs in Tuffies dog beds. These amazing photos are an asset to our new web site. May I also thank Oli Bryce for some of the images from days out in our Scottish mountains, he is a true artist. I could go on. Thank you to all.