Testimonial Robot reviews
Pontus' Hunting Season 2018-19
Many of our customers are following the development of Pontus and I must apologise for the long silence. Pontus is a SLOW developer and it didn't seem as if there was a lot to report during the season, but I have summed up the 2018-19 shooting season below to give a summary of this little dog's progress.
Pontus is of course a German Wirehaired Pointer although he is rather short of the classic beard and eyebrows. He is Gaia's son and I bred him. He is now 2 years and eight months old.
He lives here at Tuffies HQ and is often used as a model for our fabulous dog beds.
The previous season ended with slight frustration because although Pontus was ok with grouse and the odd opportunity on pheasant, he did not seem to be able to get to grips with pointing the elusive woodcock. These are difficult birds at the best of times and it was frustrating not to be able to let Pontus find birds on a shoot day as he inevitably would "bump" the birds. However, a year and more experience has passed and some woodcock have been harvested this year thanks to Pontus.
The season started as usual with some grouse counting in order to get the dogs in shape and to see how the birds had been breeding. This year, in most of Scotland, was absolutely terrible. After two years of very wet and cold conditions where the grouse bred badly, the hot and dry summer of 2018 was even worse for the reproduction of our grouse. There was simply no water on the hills and therefore no insects for the chicks to eat. Other factors played a part as well, but the result was, that there was great protection put on the grouse moors and very little shooting was going to happen in Autumn 2018. Usually I help out on shoots on many estates, running the pointers for friends, but this year almost all shooting was cancelled. I was lucky to have a few days with friends on their own place and Pontus got his grouse pointing sorted out nicely right from the start. He had several birds shot over him and he was allowed to retrieve his own birds, which he did extremely well. The "creeping on point" has more or less stopped although he will GO IN if the birds start to move.
Here he is, nailed to the spot (but that little paw is still threatening to start the slow creep).
He has not moved while he waited for the gun, which is great.
Here the bird was down and he has just located it and brings it back.
Pontus did well the first week of the season, but there were precious few shootable birds and we only need enough for the table.
Of course Gaia is still the most reliable tool on the shooting day and here she is in a classic point with her ears flipped inside out. This always happens because she puts her nose in the air as she moves forward towards the scent of birds. Then she stops and her ears have flipped out. Pontus often does the same.
We went out over three different places on the estate and on this particular day, we reached the number of birds we wanted for dinner at around 2 o'clock in the afternoon, so we just enjoyed the dogs pointing on the way home without lifting a gun. Here is Gaia on point with her son backing up, observing.
The flush produced a covey of 8 strong birds, so it was good to know that we had left a stock of grouse on the hill.
Gollum, the old soldier, is also still on the go and enjoying his pointing. Here he is in the heather, almost lying down with Pontus observing in the foreground.
Lunch time, dogs relaxing (but also impatient to get going).
EVERYTHING we shoot is for the table and the last task of the day is to pluck the young birds that will be consumed that evening and breasting out every old bird that will be put in full fat milk for a day or two before cooking. This takes out the very "strong and gamey" taste that many of us find too much.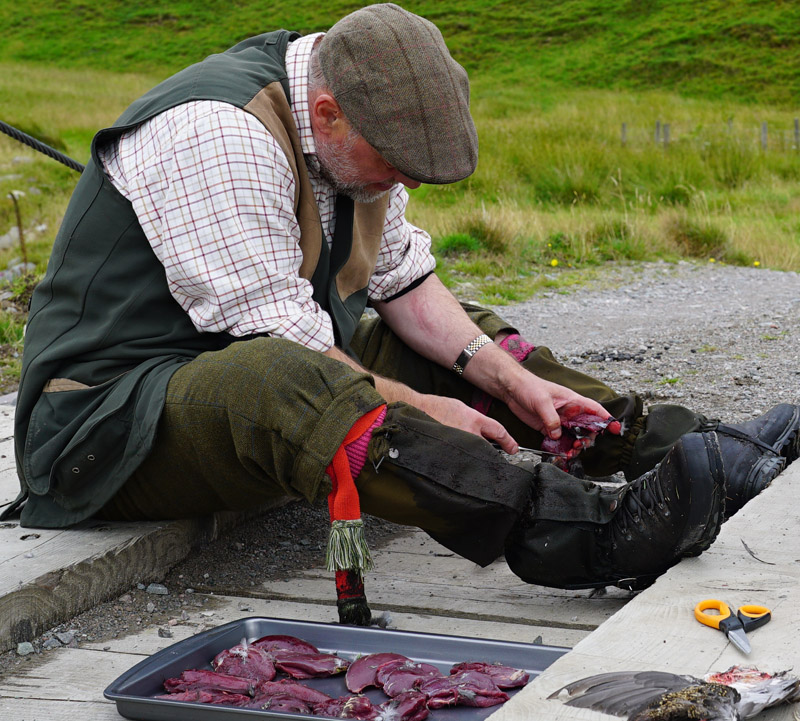 Pheasants and other birds
Pheasants have an annoying habit of running, so they are not great for training, but I have a few places, where I am allowed to mooch around with my pointers and the birds are never disturbed apart from my occasional presence. Therefore in places with good cover, they tend to sit and provide sport for the pointers. I have had lots of nice outings of just a couple of hours at a time with Pontus, letting him hunt. We have had some nice days with one or two birds shot for the pot and he has been coming on quite well. It is nice to be out with a friend to work the pointers, but it is also very special to be just one person with one dog.
This is what I describe as "The Moment". Just as the dog changes to be really tense because he knows we are getting right close to the bird. Either we flush it, or I send Pontus in to push it out of the grass.
Unfortunately we didn't get the shot on camera, but here is Pontus collecting the shot pheasant.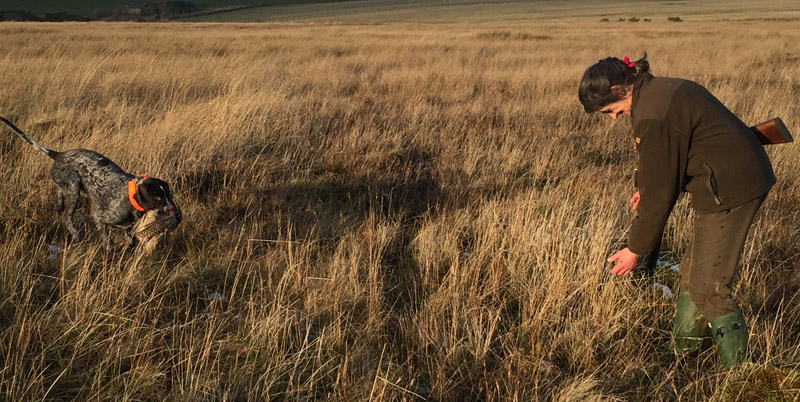 I find that he can become a little uncertain if I look directly at him when he approaches, so I just look down while he comes in with his retrieve. He is far more confident that way and puts it right in my hand, stretching his neck forward.
What happens next?
Lots of people find pheasant boring to eat. I agree, that if you pluck it and roast it in the oven, it easily gets dry and the plucking itself is very tedious. So I just take the breast meat and the thighs out like this:
I score the meat with a sharp knife and then drizzle a little soya sauce and (lots of) garlic on top. This marinates over night or goes in the freezer like that. You then have a meal that is very quick and easy to cook at any time.
The finished product is a mouthwatering plate-full of healthy food
Snipe and Woodcock.
When these truly wild birds are plentyful, it is great to get out and have a few for the pot. I have trained Pontus a lot on snipe and he is very good at finding them. We shot a three over him this year and I am certain that he will do quite well next year.
The same for the woodcock. The penny finally seem to have dropped and he has had a small handful of woodcock shot for him at the very end of the season. Hopefully we will get a good season again next year, it was very good this year. We NEVER drive these birds, we only shoot a limited bag over the pointers. It is an old tradition and there are no short cuts with this sport. Everything has to work perfectly. The dog must be steady on point and you must get there and shoot well. Dog, human and bird all have to be in the right place. On a day of seeing 20 woodcock, a reasonable pair of guns will take home 5-6 birds. They are often found in areas with thick bushes and it can make the shooting impossible.
Pontus is one of the nicest and easiest German Wirehaired Pointers I have known. His father was a fantastic hunter, but the main reason I wanted him to sire Gaia's litter was that he has a beautiful temperament and it has certainly gone through to Pontus.
I can forgive him for being a little slow and a little dim. Sometimes those are the most reliable and great workers.
At home Pontus relaxes in his Tuffies dog beds like the rest of the crew, here a Raised Dog Bed.
But he is also very fond of the fireplace. Here he is: Not looking at the flames, he is simply enjoying getting cooked really hot on one side of his head.
If you like this blog then you'll love these products
Keep reading some more
03/08/2018 16:00

This year's counting of grouse broods is nearly done in the Scottish Highlands. It is a very poor year for breeding, which is such a sad thing to see. We had two years of bad rain in the breeding season and bird stock ..

20/03/2019 17:40

The year has now come round to the very early spring/end of winter. This is when we go out with the pointers to have a look at what the grouse situation looks like on the grouse moors in Scotland. <a href="https://www..