A Nice Season With the Young Dog
Gaia is now two and a half and did well in her hunting season this year. We started off with the grouse counting, which is fairly relaxed as there is no demand for anything other than hunt, point and flush. No tricky markings of fallen birds and running ones to catch. If they "bump" a covey of birds, we can still count how many there were, so it's good training for getting a good hunting pattern etc.
Below is a picture that a friend took just at the moment when Gollum flushed a nice covey and Gaia is just looking on, it's not her turn.
She came on really well after 12th August. I used all three dogs in a mixture of my own days and working them for clients. I learned that having just one or two dogs out at a time is best. Running three and carrying a gun ends in chaos because they know they can get away with more naughty behavior. Below is a day at Ralia with Adam and my self. Gaia is on point, holding the birds' scent in her nose, waiting for us to get to her before she flushes on command.
In total, I worked the pointers 19 days on grouse and there are lots of great little experiences happening. Below is a faun. I saw Gollum on point, but when you get to know your dog and the birds and the terrain, you get to have a suspicion when something is odd. I knew his point was maybe not on feather, so instead of asking him to get in and flush, I peaked in (with my camera at the ready). Sure enough, he had found a roe faun and I got to take the snap.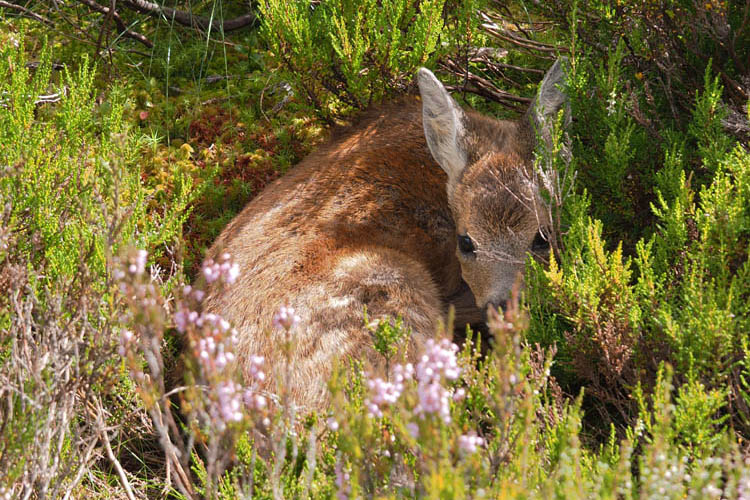 The dogs obviously form a huge bond with the handler through the training and long days on the hill, but the guests also become very fond of them. After a good day, where a guest has been provided with good sport by a dog, most people feel a special affinity with that dog.
You always know when Gaia definitely has a bird in front of her: her ears are inside out. She bounces along as she moves in at the end and it makes her ears turn out.
The excitement increases as the guns see the dog on point and get them selves organised round the point.
Jonny, trusting Gaia (ears inside out, lol) moving in ready to take a shot.
We had a great day at Kildemorie and Jonny enjoys a moment of contemplation with his new friend, Gollum.
But nobody loves them more than the handler (and Mummy).
After the grouse, the other birds become interesting. Just from a pointing view, snipe and woodcock are particularly great. Wild birds to be found in beautiful areas. Below is Gaia on point and I managed to see the bird: a wee Jack Snipe that I took a photo of with my phone.
In the winter Gaia ripped her ear really badly and had to get 10 staplers in. A lampshade was duly fitted, but it did not prevent Gollum from attending the wound and licking it inside the shade.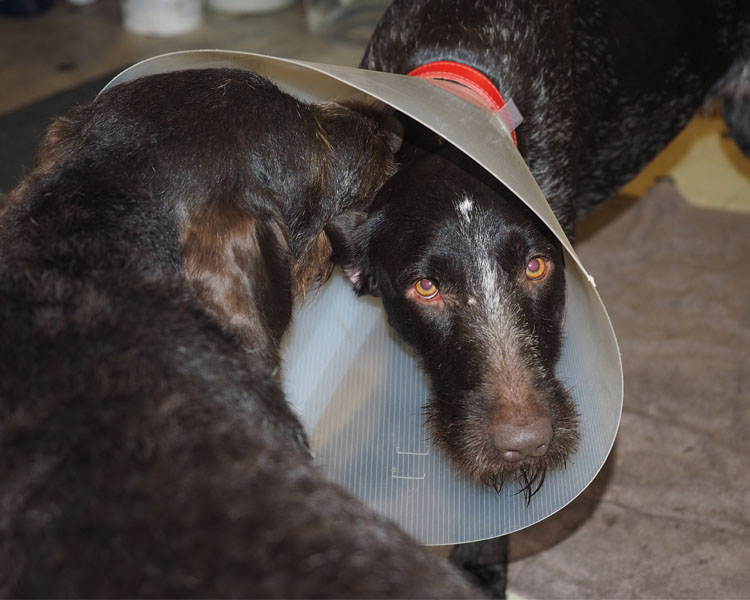 Also, it did not prevent her from hunting, either with a sock over her head or simply Gaffa tape to keep the ear still and not bleeding.
This morning I went out with her to shoot what we are going to eat tonight. An old cock pheasant, which will be fine once it's slow cooked for a while. It's good to get rid of the old cocks to let the younger ones breed with the hens.
He sat under a bush and I would never have found him without a pointer.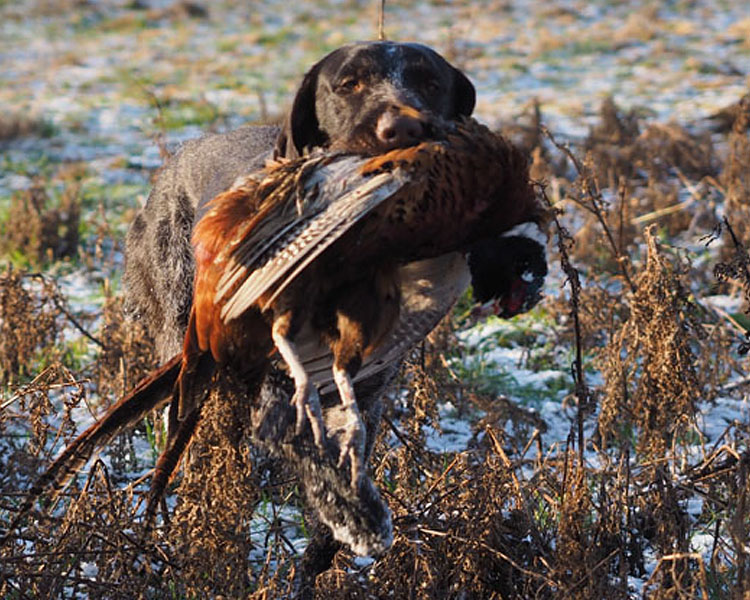 If you like this blog then you'll love these products
Keep reading some more
21/03/2014 14:00

It is with the heaviest of hearts that I have to add this chapter to the 'Working Pointer Blog'. On Wednesday night we had to let Alice go to Doggie Heaven. Over the last two weeks she had started to have seizures, w..

31/03/2015 18:22

At this time of year, March – April, the grouse in the Scottish Highlands are pairing up, husband and wife. They choose their territory and stick to this, more or less. The closer it gets to the time of nesting, the mo..