What are the best Dog Beds to use in the Muddy Season?
The most important dog equipment in the autumn and winter is a waterproof dog bed. Even if your dog is wet and the dog bed is a bit muddy, a waterproof cover and a dry stuffing will still provide your dog with insulation and support from the cold, hard flooring.
Embrace Autumn with Your Dog.
Just like that first strong, warm ray of sun shine in spring that gives you an uplifting feeling, it is great to feel the first day of autumn with the earthy smell of brown leaves and a hint of chill in the air. Most dog owners relish the autumn walks with the dog and while  the children kick the dry leaves, the dog will be heading for the muddy puddles. Let him go in, let him enjoy the wet and muddy fields and deal with the wet dog problem later. There is nothing better than getting home, towel the dog down a bit and then put him on his bed to dry. But make sure you have the right sort of dog bed ready.
Use a Dog Bed with a Dry Inner.
If your dog is very wet after walks, you might like to leave him in a suitable place in the house on his dog bed till he is a bit dryer. The most important thing is to have a waterproof dog bed so that it does not become slowly damp inside, losing its insulating properties. Dry stuffing will always provide perfect insulation, but a soggy one will be very uncomfortable and only chill his bones.
Damp dog beds can actually worsen the clinical onset of arthritis and should be avoided always. If you use a waterproof mattress dog bed with a smooth surface like Tuffies Wipe Clean beds you allow for the evaporation to happen efficiently and the cleaning of this dog bed is extremely easy, you can see how with our helpful dog bed cleaning guide.
Understanding Condensation under a Dog Bed.
From time to time we hear from customers, who think their Tuffies bed is not waterproof because they have found dampness under the bed. We have occasionally taken a bed back for inspection and, without fail, the beds have been bone dry inside, ensuring that the dog using the bed is absolutely safe from chill. The damp is a result of the physics of condensation.
If you have a bed sitting directly on a cold floor and if the relative humidity in that room is on the high side, the humidity in the air will condensate in under the bed and will not evaporate very easily. It has little to do with the warmth of the dog using the bed because, under the right circumstances, you would get condensation even if there is no dog lying on the bed. The way to avoid this is to lift the bed up on its side daily for a little while to encourage ventilation and evaporation. The other way would be to raise the bed up from the floor allowing constant ventilation so no condensation forms in the first place.
Dog Bed Covers for Really Muddy Dogs.
If you prefer to give your dog a soft cover on his dog bed, our Dog Dryer Cover is amazing. With its "noodle structure", it has a very large and absorbing surface that works like a towel on the dog coat. We have tested this product extensively and it has a great ability to "hide the dirt" and look good still after heavy use. When the cover has been on the bed for a long while you will be surprised how much dust has gathered under the cover. This shows the amount of mud that has come off the dog coat.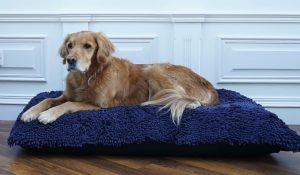 Travel-Dog-Beds for Muddy Dogs.
If you don't walk your dog near your home, but usually drive to your walking area, you will have to address the issue of travelling home with your happy, muddy hound. Many dog owners choose to have a travel box for this purpose in order to prevent the dog shaking its coat, spraying the entire inside of the vehicle with puddle water. In either case, the comfort of the dog comes first and Tuffies supplies an excellent cover for that purpose, the Wicking Cover. This cover is made from a spacer fabric designed for seats in utility vehicles where it is important to feel dry when you are seated. Using this for a dog bed in wet conditions means that the dog is literally sitting high and dry on the cover instead of feeling clammy. The other great advantage is that this cover will also dry very fast on its own when you take the dog out preventing that long-festering doggy smell to build up in your car. The Wicking cover is also exceptionally easy to machine wash and dry.
Dog Beds for the Well Exercised Dog.
If you are lucky to be able to accommodate your dog with a boot-room where he can dry out on a Dog Dryer mattress cover or just the waterproof dog bed on its own, he will no doubt be keen to come in to the house afterwards to join the family and sleep for the evening. Good support is important for all dogs, not just the old and if you have either a Tuffies mattress bed or a cosy Tuffies nest dog bed for him, he will sleep really well and be all ready for tomorrow's delightfully muddy walk.
If you like this blog then you'll love these products
Keep reading some more
12/10/2018 07:40

The best dog beds for outdoor dogs are either <a href="https://www.tuffies.co.uk/browse/c-Raised-Dog-Bed-and-Spare-Liners-2">raised dog beds</a> with a warm, removable and washable lining or simply waterproof with a thic..

03/12/2018 17:17

If you have a dog that chews his bedding consistently, there is help at Tuffies dog beds. We supply the only warm, padded, draught excluding and guaranteed chew-proof dog bed on the market: The "<a href="https://www.tu..