Testimonial Robot reviews
Dogs Vomiting on their Dog Beds
Almost all dog owners have experienced their dog being sick and vomiting. There can of course be all sorts of explanations for this and sometimes a vet is needed, sometimes the vomiting is just 'one of those things'.
We are not vets here at Tuffies, but we make fantastic dog beds and we do have solutions for the effect of dogs being sick: Waterproof dog beds that are very easy to clean.
If your dog is frequently sick
Some dogs are just sick more often than others without any explanation and you, as the owner and carer for your dog, will be looking for the best way to handle this. Most dogs actually get out of their dog bed and prefer to produce their little present on the floor instead of their dog bed, which makes it easy enough to clean up as long as you don't have a carpet of course.
However, some dogs are sick in their bed.
Best way of cleaning dog beds for small breeds.
If you have a very small dog and he is sick in his dog bed, you probably have a little bed that can go in the washing machine and it's all very simple. Our Mini Wolf Den is ideal as you can lift the little base out so that washing and drying becomes more efficient.
The problem with cleaning dog beds for large breeds.
Obviously, if you have a medium to large dog and if you accidentally have bought an inferior dog bed that is not waterproof, you can probably try and put it all in the washing machine. But the result is almost certain to be a lumpy dog bed that will take ages to dry.
Therefore the solution to cleaning dog beds for large breeds is simply to have a large, top quality waterproof dog bed. When your dog is then sick on it, it is easy to clean. At Tuffies we supply two types of dog beds: The Mattress type dog bed and the Nest type of bed.
Cleaning a Mattress dog bed.
If you have a large dog breed, it makes sense to have a good quality waterproof mattress type dog bed that you can hose off if there is a mess on it. Especially if you use a fleece cover with it, it is so easy to take the soft cover off and wash in a machine. All that you need to do after that is to take some hot, soapy water and go over the bed followed by a rinse. You can do this outdoors and if you rinse with the garden hose and leave the bed in a good drying place it will be ready to use after an hour or a little longer, depending on the type of weather on the day.
If your dog is sick in his Tuffies Nest dog bed.
We speak with customers ALL the time and many come for help if they have a dog with frequent sickness and wish to purchase a nest dog bed. The best one to get is definitely the Wipe Clean Tuffie Nest as it is very easy to wipe or to wash and towel dry.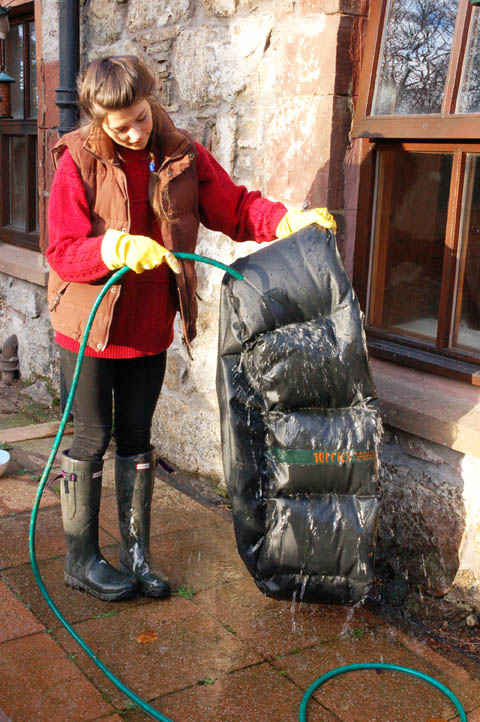 The only problem with the nest type bed is that if a lot of liquid runs in to the bottom of the bed, you will find it tricky to get it completely clean in the bottom, under the mattress where there are a lot of joining seams.
Cleaning is easy and you can see instructions here.
If you like this blog then you'll love these products
Keep reading some more
29/01/2020 12:46

<strong>How to Clean Your Tuffies Nest Cover.</strong> The <a href="https://www.tuffies.co.uk/item/27/Nest-dog-beds-and-covers/The-Nest-Dog-Bed-Cover.html">Tuffies Nest Cover</a> and cushion cover wash very easily in ..

01/04/2020 12:08

Dogs, unlike humans, are happy to walk barefoot directly from the muddy garden in to their beds. We can do our best to clean their paws etc, but at the end of the day dog beds will get dirtier a lot quicker than human be..