The Glorious Grouse Pairs Counting.
Such beautiful weather!!! This is the time of year where the grouse moor 'keepers want to know what the breeding potential is, in other words how many grouse are planning on a family on each moor. It is an ideal time to find out because the grouse is nicely paired up in husband and wife pairs, who tend to stay in each their territory. As you walk over the moor with a pointer performing its perfect zig zag pattern across the wind, you can count how many pairs you find in a certain area. As the dog hunts across the wind, he or she will suddenly take the scent of a bird (totally ignoring any small birds like sky larks) and lower his whole body, keeping the nose in the air and sneak in towards the grouse, where he comes to a halt, ridgetly on point. Here is Gollum and Tippex with grouse scent in their noses. Note the brown spring heather and Tippex's fluffy wintercoat, which I will need to strip out soon.

Anne and I have been counting a few places so far this year and it looks very good. Lots of healthy grouse pairs all round. Perhaps the mild winter has been kind to the birds. This spring is, of course, exceptional in being SO hot. The lack of rain is threatening some areas to become unattractive to the grouse as they rely on watering holes for the production of protein-rich insects for their chicks. However, this is still Scotland, and we should surely see some rain soon.
This year we were blessed with a day in the company of Peter O'driscoll and his beautiful pointers.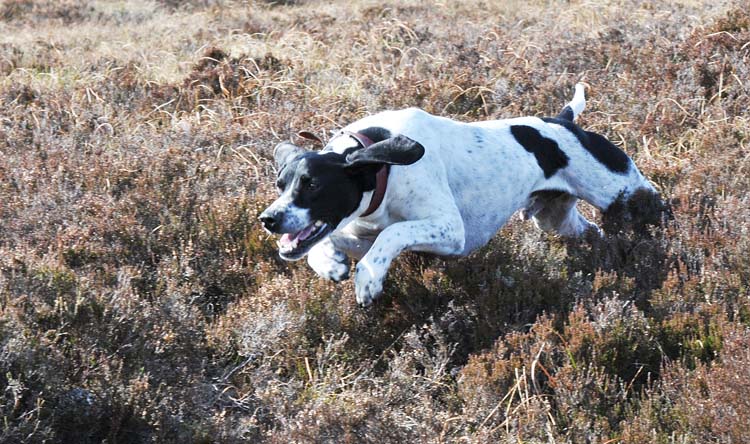 As you can see, it's sunshine all the time and we have been finding it difficult to find water for the dogs, which is why we carry liters in our back packs. Amazing how fast two, relatively small dogs can demolish a two-liter bottle of water. As dogs don't sweat through the skin it is amazing how much water they are able to get rid off by panting.
As always, I was pursuing "the photo" and managed to get a reasonably good one of Anne's dog, Dipper, just as he flushed a grouse. Maybe some of you remember Dipper from our Facebook page: he did his cruciate ligament last August and the full operation. Now he is absolutely sound again and is worked, with some precaution, on the moor again.
We have a few more days on the hill before it will be time to leave the birds alone to bring up their families. That's when the pointers get a chance to do some other trianing like retriever training and, frankly, to lie in the sun on their Tuffie beds, soaking in the warmth. Not much happens now till July, but we should hopefully squeeze in the odd competition.
If you like this blog then you'll love these products
Keep reading some more
23/02/2012 15:56

Time flies and the shooting season now seems a long way away. Here is Gollum on his last working day of the season; picking up at Glenstriven Estate, West Scotland. It is nice that you can work the HPR breed both on poin..

30/04/2012 10:28

The Hunt-point-retrieving dogs (HPRs) have lots to do all year as we count grouse pairs and run spring pointing tests in February-March whereafter the season goes seamlessly over to Working tests. I took Tippex and Goll..