Spilled Gollum out the back of my car!!!!
Well, here is one for the books: I spilled Gollum out on the road while driving at normal speed and didn't know till another driver stopped me.
This was back in September this year. I am quite embarrassed about this, so it took me a while to get round to tell the story, but here is a warning to all truck drivers:
I picked my friend, Anne, and her three dogs, up in the morning. We were driving along with six dogs on the huge dog bed in the back of my Nissan Navara. As the main road was closed, we were forced to take a smaller, more windy road, which turned out to be a complete blessing and saviour.
We drove about 20 miles (we were on our way to work the dogs on a grouse moor for clients), when we went through a little town, Grantown on Spey. I stopped briefly and a Land Rover pulled up behind us and the driver came over to say that the back-door of my car was down. Of course we jumped out in total panic and as I stared at the open back of my car, still containing a dog bed and lots of dogs, it slowly dawned on me in my blown mind that GOLLUM WAS MISSING!! My beautiful big male German Wirehaired Pointer. The sheer panic is difficult to describe, but I can basically say that my mind was simply preparing me for finding a dead or almost dead dog as we back-traced our route. I told Anne to keep an eye on the fields while I tried to look for a brown, furry heap in the side of the road.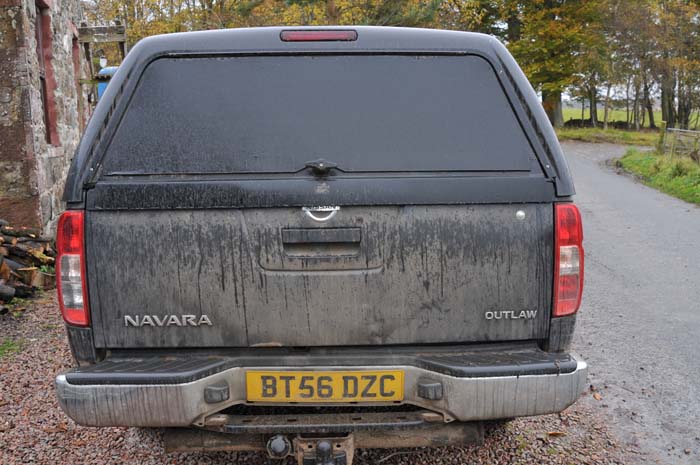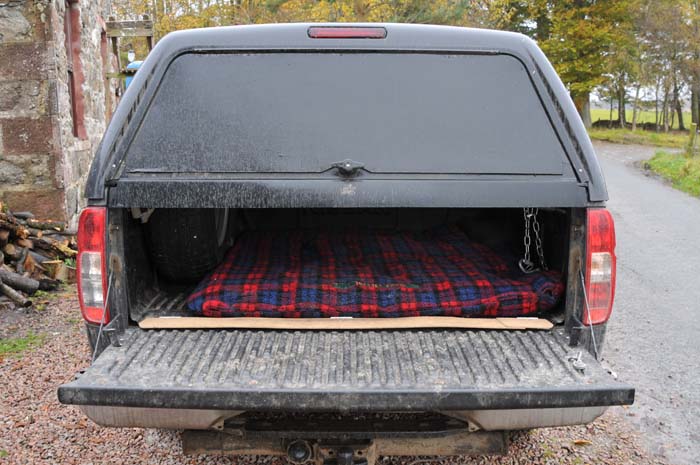 We drove miles and miles and I flashed down every car we passed to ask if they had seen a dog. Nobody had seen him, but we gave everyone my mobile number.
Driving along I was planning which vet to take him to. I imagined that the only way for the vet would be to put him down. We even had the compos mentis to call the clients and arrange for Anne to get a car and carry on to work her dogs. I was not going anywhere before I had a result.
Half an hour seemed like an eternity and I was seriously losing hope. A badly injured dog will tend to crawl into the thick vegetation and if it does not recover quickly, then it will just die there.
Then my phone rang and someone said my dog had been found. It turned out that the gillie at Tulchan estate, whom I had given my number to, had been in touch with everyone on the estate and hence talked to one of the 'keepers, who had seen Gollum.
Tough dog or what….. Gollum had been standing in the side of the road. Mike, who used to work on another grouse moor, drove by and said "That looks like Gollum". He picked him up and hence the story ended very happily indeed. The mobile communication meant that I was reunited with my dog super quickly.
I couldn't believe my luck. Gollum had two grazes on his body: one on his shoulder and one on his bum. He must have been leaning against the back door when it suddenly opened up and sent him flying on the tarmac. If the main road had been open, it would probably not have been the same, happy ending at 60mph and more traffic on the road. I would have been driving about 40mph at the time.
We got to the grouse moor and I was just going to walk him to heel for the day. No, no. Not Gollum. He was so impatient to work and eventually I let him hunt, which he ended up doing most of the day.
The next morning I took the biggest drill-bit I could find and drilled a hole straight through the back door. I put the biggest bolt through the hole and arranged a chain and hook to make it absolutely impossible that this could happen again.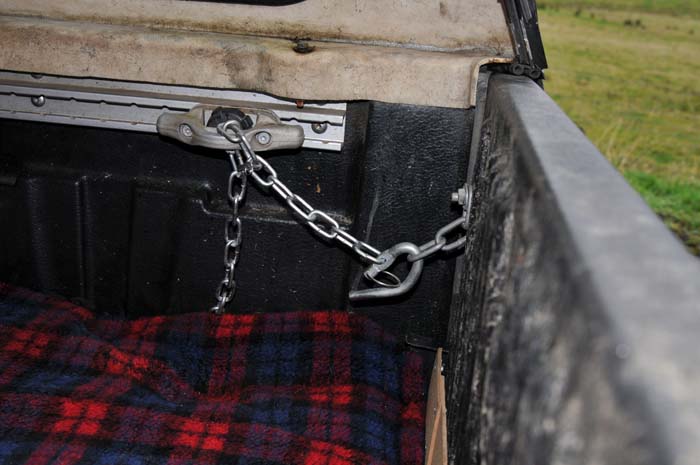 My car has done around 98,000 miles and with age the closing mechanism for the back door had gone a little stiff and therefore did not close properly. It looked and felt shut, but obviously only just hanging lightly on by the internal closing mechanism. It must have been a bump in the road that made it jump open.
Apart from trying to grease it, it is a scary thought that you can't quite trust the back door. I could have lost other goods out of the back, which might have hit another car causing a horrid accident.
All of you, who drive trucks and vans with dogs, please remember this story.
Today we were sent a picture by Paula Tennyson. She is showing her fantastic dog beds arranged in her van in separate cages. We supplied her with custom-made Tuffie beds and Fluffie Tuffie covers for her transport van. What a super and secure arrangement for her agility dogs.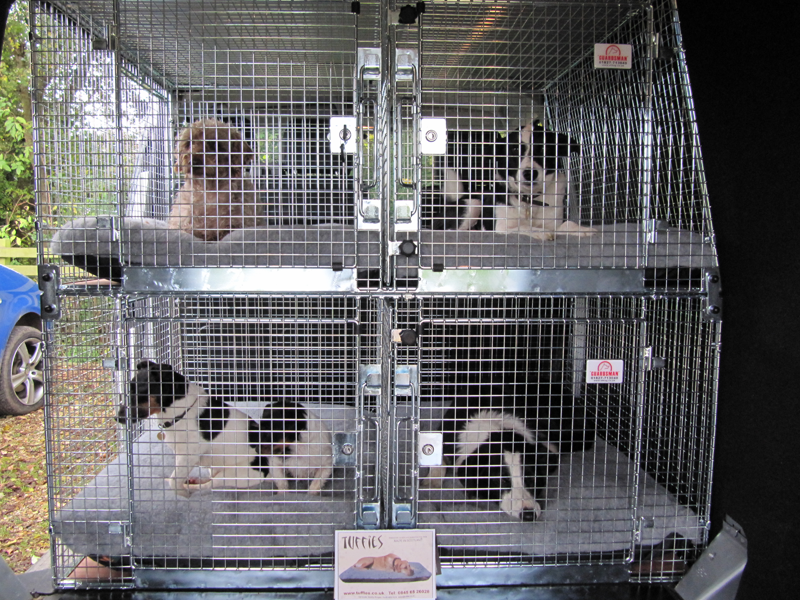 Picture by kind permission from P. Tennyson.
If you like this blog then you'll love these products
Keep reading some more
10/10/2012 14:29

The time has come to get the next generation going. Alice is nearly 10, Tippex is 7 and Gollum is three years old. Getting a new puppy is essential now in order to be ready for work in a couple of years when Alice is too..

16/12/2012 15:42

It all happened this weekend. We drove from the North of Scotland to Harwich on Wednesday and sailed across to Esbjerg over night. Spent about six hours in Denmark where new puppy, Gaia, was handed over. <img class="a..