Dog beds and trophy at Crufts
Crufts this year was again fantastic!! When we set up stall in hall 5 at Crufts every year, we enter four days of the amazing world of dog people and Tuffie fans. Lots and lots of known faces come to us at our stand to see how we are doing. Lots of people bring friends, whom they think ought to get them selves a Tuffie. Many people simply make it the yearly event to top up the Tuffie collection at Crufts. Customers come along to see if we are doing anything new they might like and of course there is an army of new customers who have had Tuffies recommended by friends and who would like to make their first purchase taking advantage of the fact that there is no delivery charge if they can take the dog beds home on the day.
We also have nice (and weird and wonderful) visitors such as the Bulldog below. As a representative of the Bulldog rescue charity, he was proudly attending Crufts and decided to check out a Tuffie nest. In fact, he was so reluctant to leave the nest that his owner gave in at the end and took that bed home. What a face he has and I got a chance to look inside his mouth, which took me back somewhat. Half his tongue was sticking out under the upper jaw. I've never seen anything like it.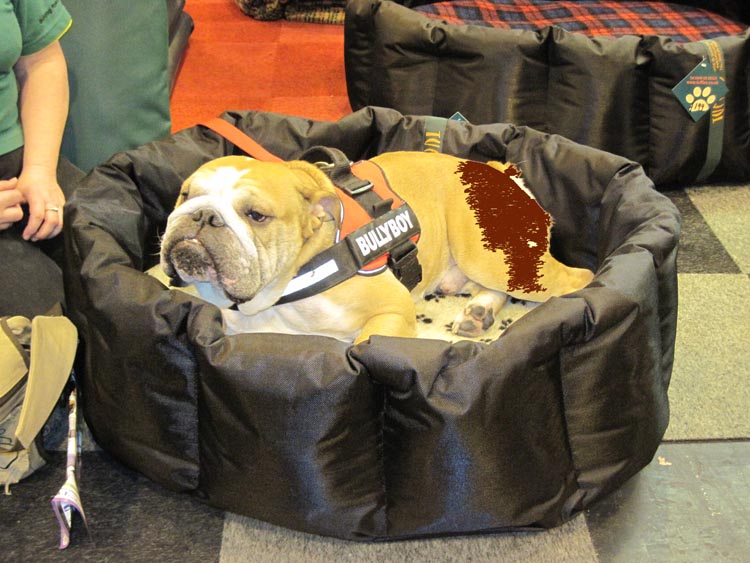 On the Gundog Day we are particularly excited as the Tuffie Trophy is awarded to the best WORKING HPR bitch shown in the BASC ring. As I am always too busy to get away from the stand, I only see the final result just as it is my turn to run over and present the trophy to the winner. Off I run and leave the dog beds alone to congratulate the winner, who this year turned out to be Ms Dempster with Hungarian Vizsla Moricroft Moonshine Miatt Madilor. We have had the trophy made as a shield about six years ago, by Julian Schmechel, who makes fine furniture here in Scotland.

Oh, and a small child also came along to test one of our dog beds: THE GIANT NEST: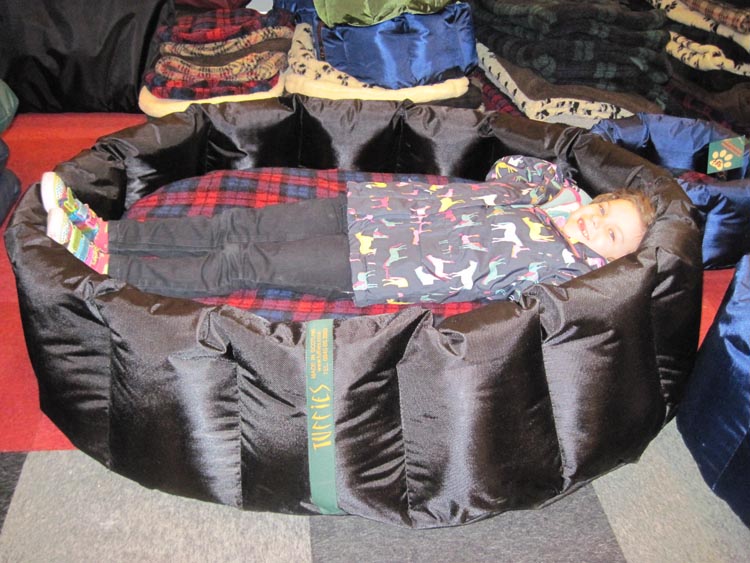 If you like this blog then you'll love these products
Keep reading some more
15/02/2013 11:57

Just thought I would share this little moment: When working Gollum (and Tippex) in the deep snow at the end of January, I noticed a bit of blood spillage in the snow. I inspected Gollum and found a wound on his chest rig..

01/04/2013 14:44

After some upset on Facebook over this I thought it best for a clearer and correct understanding of the writing below to call this it's UK title, the controled retrieve. No!!!! Not all Wirehaired pointers have hard mout..