It is essential for travelling with one or several dogs to have good dog beds in the back of the car. Obviously I travel a lot with my dogs as I work them on all sorts of grouse moors and other stuff. I also take them with me on holidays or when I visit friends. So of course I have a custom made bespoke dog bed in the truck, which fits round the wheel arches and is shaped to fit round my spare wheel that I carry in the  boot.
The beauty of these dog beds are that they are totally waterproof, so when you feel the need to wash them, you can simply scrub them down with hot, soapy water and rinse them off. I have the Wipe Clean material and it is almost dry instantly after the water has run off the surface.
I also have a Fluffie Tuffie cover on it, shaped to fit it perfectly. Having the nice, soft cover gives several advantages such as softness and warmth and because it is a thick polyester pet bedding, it works in a wicking fashion in the sense that a wet dog will find that the water is draining from him, while he feels high and dry.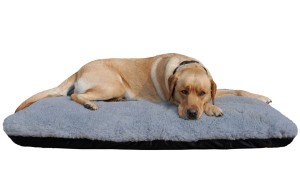 A few days ago I wanted to wash the Fluffie Tuffie cover so I took it off and put it in the washing machine at 40 degrees. In the meantime I leant the dog bed itself against the wheelie bins outside. Stupid, you might think, but it was just on the ground, leaning against the bin. It sat there a couple of days when I didn't need it, but today I wanted to put the cover back on and I had one of those moments where you don't believe your own eyes. No waterproof dog beds anywhere near the wheelie bins. I thought someone might have moved it further near the house, but no. Well, ehm, the bins were emptied yesterday……   So I think that the bin men were either REALLY nice putting the bin in the rubbish skip despite me not "disposing" of it correctly OR they thought it was a good excuse to help themselves, pretending to misunderstand…..
In any case, I lost my car dog beds which is a real pain as I am off to a Field Trial tomorrow transporting not just my own dog, but another competitor's and had to ask the work shop to make me a new one, which they happily did and I have a brand new car dog bed with soft Fluffie Tuffie Cover.
Working dogs and WALKING dogs love good dog beds.
Whatever happened, I remember some time ago, a customer rang to say that he had had his dog beds stolen from the back of his vehicle. As he said, they didn't take his smart Barbour jacket, they only went for the dog beds.
If you like this blog then you'll love these products
Keep reading some more
21/09/2016 14:00

As autumn and then winter approaches it is time to think about how to tackle the problem of muddy dogs and <a href="https://www.tuffies.co.uk/">dog beds</a>. Obviously there are no end of cheap dog beds on the market ..

13/10/2016 07:54

Have you tried to sit or lie down on the floor in your house recently? At this time of year we get the slippers and the thicker socks out and the reason is that we are getting closer to winter and we are getting colder. ..