Of course our dog beds are the winners when it comes to quality, durability, comfort and hygiene, but they are also winners in other ways: we often have competitions going on, either on Facebook or in magazines, where readers can win a Tuffie dog bed.
Last month we had a big competition through Your Dog Magazine, which was entered by 1,200 people. This was a straight forward lottery for winning two of our most popular dog beds, the Tuffies Nest. How great and heart warming that so many would like to try and win one of our many luxury dog beds.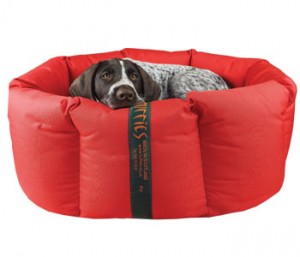 We also have a regular feature in Dogs Monthly, where we are the star letter winner prize. Every month a letter is chosen for its content and the winner gets one of our dog beds.
It is however, the Facebook competitions that are the most attractive as there has to be a judgement involved most of the time. We sometimes have "Funniest dog" or "Dogs on holiday" or maybe "Do your dog sleep in you bed?". The bed sleeping dogs were very cute and funny as it was very obvious that SOME dogs do not need dog beds. They always sleep in their owner's bed and we received some fabulous photographs of people asleep with their dog somewhere in the bed, sometimes with only a paw sticking out from under the duvet.
A lot of the photos were taken by wives taking a picture of the husband with dog. I had the same experience: Obviously we have all sorts of great dog beds here in our house, but I came home one late evening and my husband had been home alone with one of our dogs (the one he likes the least). I got worried that the dog was not in the living room where it would normally sleep. I was hunting around the house to find the dog, but in the end I found my husband asleep in our bed and I could just see one grey paw sticking out from under the duvet. Ahaaaaa, so you don't hate Tippex that much then!! Husbands have soft spots when it comes to a little old dog snuggling up.
If you like this blog then you'll love these products
Keep reading some more
19/10/2016 09:19

Remember, now it is getting colder, that it is important to put your self in the dogs' space and feel for your self whether you think that the <a href="https://www.tuffies.co.uk/">dog beds</a> are warm enough. On the f..

09/11/2016 16:39

Last week I had the pleasure of showing my dogs on TV. It was five minutes on BBC Scotland, the Landward programme. This all started because Euan Macillwraith bought a <a href="https://www.tuffies.co.uk/browse">dog be..