Dog Beds for Very Large Breeds
Time and time again, we receive the most wonderful testimonials both as emails or accompanied by pictures. This is because our customers get so very pleased finally to have a dog bed that lasts. The problem with the very large breeds is their weight. All dogs will spend a considerable amount of their day sleeping on their dog beds and it is therefore important that they get a bed that they don't trash in a short time.
Very large dog breeds that have a fine coat will be best served with a nest type dog bed as this helps keep the  draught out and keep the dog warm (owners should be vigilant when it comes to the temperature near the floor, as this can be much colder than you might think). The nests are more elaborate than mattress beds and if you buy top quality, then they will be fairly heavy to lift. Certainly, the Tuffies nest in XXL weighs around 20 Kgs, so it will not be dragged round by even the largest dog and it won't be sliding round on the floor when a Great Dane comes bounding in and jumps on it.
Customers speak more than anything we can describe and here is the latest testimonial from a very happy customer:
Hey guys,
Just a quick message to say thank you for the amazing service and product! I never thought I'd find a bed that could entice Frank off our sofa but this did the trick. He's had the bed about a year now and it still looks like new. I wish I'd have got one of these to start off with instead of paying £70+ every 6 months for a replacement bed big enough to support the great weight of a Dane. As you can see he has plenty of room in there and likes to roll around after a long day, he can fully stretch out on his side in it too which is great. Thanks again! Charlotte & Frankus
If you are happier with a more manageable mattress bed, then that is the cheapest and easiest to have. If you do have a dog without much coat, he or she will probably  appreciate a bit of extra fleece on top, such as one of Tuffies Luxury Fleeces for the Large Mattress dog beds.
Here is a lovely testimonial to that effect:
Dog Beds from Tuffies:
Flint doesn't like his new bed, he LOVES it as you can see! Spoilt rotten but well worth it. Thankyou. JM yorkshire.
Or you can give your very large dog a bed with a tunnel cover. Here is another testimonial, which tells a lovely story:
Dog Beds from Tuffies:
The tunnel cover arrived today for Sapphire's bed. She is a blue great dane and we adopted her 10 weeks ago, through Daneline UK.
As you  can see,  she finds the bed extremely comfortable and we are delighted with the quality and workmanship. The fleece is thick and luxurious and will keep her cosy throughout the winter.
Thank you so much for your attention to detail and prompt delivery. We shall gladly  recommend Tuffies to all our friends. Please feel free to use this on your testimonials page, if you wish.
Many thanks
Rosemary Webb.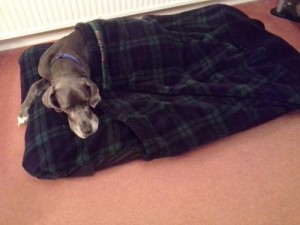 If you like this blog then you'll love these products
Keep reading some more
27/04/2017 08:56

Hopefully one would not be needing perfect <a href="https://www.tuffies.co.uk/item/10/Nest-beds-and-covers/The-Wipe-Clean-Tuffie-Nest-Dog-Bed.html">post surgery dog beds</a> very often, but when your dog has had an opera..

09/05/2017 15:09

Here is Pontus, he won his Puppy Class and came second in the Novice class at our Working test last weekend.It must be partly due to the training and partly due to the lovely <a href="https://www.tuffies.co.uk/">waterpro..